IF THERE'S ONE thing Jimmy Fallon is really good at, it's gently cajoling people to confront some of their most embarrassing moments before sharing them with the wider world.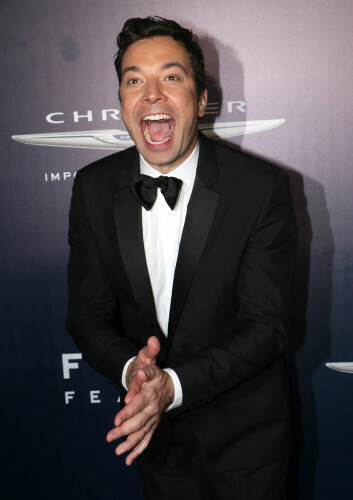 Source: Dylan Lujano/Admedia
Every so often, the chat show host urges his followers to take a look inwards, grapple with a past indiscretion and then communicate it in 280 words or less.
And with the help of a handy hashtag, they can officially move on.
This week, we're contemplating singledom, and the reasons behind it.
It's Hashtags time! In honor of "The Bachelorette" finale, tweet out a funny, weird, or embarrassing reason you're single and tag it with #WhyImSingle. Could be on the show!

'ÄĒ jimmy fallon (@jimmyfallon) August 7, 2018
Given the fact we all have cringe-worthy stories of this nature, it's no real surprise the hashtag gained traction as quickly as it did.
We mean, it's always therapeutic (and brave) to get this stuff off your chest.
Would we do it? No. But these people have…
1. Well, they ARE warm.
When I was in my twenties a girl I worked with (who I liked) told me that I looked nice in the sweater that I was wearing. To which I said, "I like sweaters. Sweaters are warm."
After that I turned, walked away and went back to my cubicle.

'ÄĒ Mike Keller ūüéôūüŹĆÔłŹ'Äć'ôāÔłŹ (@MikeKellerWEEU) August 7, 2018
2. Easy mistake.
I asked a cute guy if I could borrow a pen, when I finished using it, he smiled and held his hand out. I thought he wanted to hold my hand, so I did…he was just waiting for me to return his pen #WhyImSingle

'ÄĒ Ann (@DontLarfAtMeh) August 7, 2018
3. This doesn't add up as far as we're concerned.
I have an Instagram account dedicated to my cat #WhyImSingle

'ÄĒ vicki (@Andwejigglelike) August 7, 2018
4. It sounds shocking, alright.
A cute girl came up to flirt with me in college. I had been crushing on her for almost a year. She was joking around and playfully poked me in the belly. Nervous as I was, I tightened up my stomach and farted as if she had pressed my 'Äúfart button'ÄĚ it was shocking #WhyImSingle

'ÄĒ Brainfreezer (@CRYPTO__CHAOS) August 7, 2018
5. Yep, she was serious.
Told the guy I was seeing at the time that I wasn'Äôt leaving the house until I beat this game that had just came out. He asked me to go out with him to eat 2 days later and I said 'Äúwhat did I tell you?'ÄĚ As to which he replied: 'Äúyou were serious?'ÄĚ #whyimsingle

'ÄĒ Kristina (@KaoticKristina) August 7, 2018
6. Who doesn'Äôt love a 'Äėtaste-test'Äô?
I was once drunk making out w a girl and thought it was so amazing that I thought it would be cool to pull away & say 'Äú that'Äôs just a sample of what'Äôs to come'ÄĚ instead I mumbled that was just a taste test'ÄĚ and stumbled away never to return because I was embarrassed #whyimsingle

'ÄĒ Charlie Exile (@chillincharlieX) August 7, 2018
7.  Oh, smooth.
At the bar the other night i saw the same cute blonde fall twice. I yelled over the music "you just keep falling tonight!" To which she replies "who the F are you!?" #whyimstillsingle

'ÄĒ Michael Magor (@ManUtd007) August 7, 2018
8. Well, that didn't go to plan.
A girl I was dating brought me over to meet her mother and after she introduced me I turned to my girlfriend and said, "Wow, you're almost as attractive as your mom…" #WhyImSingle

'ÄĒ Lucas (@LjdubAAL) August 7, 2018
9. Well, he's not wrong, to be fair.
A cute girl at work walked by me while I was filling my water bottle. She smiled at me and rather than saying hi I let out a moan and said "Hydration am I right." #WhyImSingle

'ÄĒ Zack Feldman (@ZFelds) August 7, 2018
10. A compliment is a compliment.
My cousin told me the key to flirting to compliment. I walked right up to a guy got flustered and said you have a really nice spine and immediately walked away #whyimsingle

'ÄĒ Nicole (@NiceSpine) August 7, 2018
11. It's the one sentence we're all terrified we'll utter by accident.
While talking to a guy I liked about my friend, he asked if she was a redhead, then apologized & said, 'Äúit'Äôs probably weird that I know her from your Instagram.'ÄĚ
To make him feel better, I said, 'ÄúNo it'Äôs ok, I look at your Instagram every night before I go to bed!'ÄĚ #WhyImSingle

'ÄĒ Mackenzie Nelson (@nelsonmackenzie) August 7, 2018
12. Well, that's something new.
I told her she gave me eagles instead of butterflies #WhyImSingle

'ÄĒ C.L. (@CCLoken) August 7, 2018
DailyEdge is on Instagram!